At age twenty-eight, Matt Cavallo was diagnosed with Multiple Sclerosis. Seemingly over night he went from a fully-functioning, healthy man to someone who was numb from the waist down and unable to walk. His story of being diagnosed and overcoming the physical and emotional challenges associated with having a chronic disease can be read in his memoir, The Dog Story: A Journey into a New Life with Multiple Sclerosis.
As result of his diagnosis, Matt has dedicated his life and career to healthcare and helping others with chronic illnesses. Matt has his Master's degree in Public Health Administration and has worked in numerous clinical settings, as well as, with insurance and pharmaceutical companies. He understand the ins and outs of the health care system and can provide you with the guidance necessary to become your own best health advocate and to get the quality care that you deserve! As a Chronic Illness Coach, Matt believes in compassionate, active listening to get to know you as a total person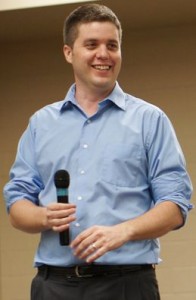 and to identify your unique set of challenges, fears, goals, and dreams. Matt's mission is to help chronically ill individuals live their best life and find resources to accomplish their goals.
Matt has moved audiences all over America with his unique brand of motivational speaking. He has an engaging style that will make you laugh, cry and feel inspired to go out and live your best life despite being effected by a devastating disease. Among others, Matt has spoken for National MS Society, Biogen Idec and Farmer's Insurance.
Matt has also appeared in a MS yoga DVD that is free for MS patients with Baron Baptise. He is active with MS charities, and appeared in The Future of MS documentary about for the MS Cure Fund with Ann Romney. His story has been featured in the Boston Globe, and he writes a popular blog as a resource for MS patients. Links to these videos are available in the 'Helpful Links' page on this website.
Most importantly, however, Matt is the proud father of his two sons, Mason and Colby, the loving husband to his wife, Jocelyn, and the best friend to his dog, Teddy. Originally from the Boston suburbs, Matt currently works and lives with his family in Chandler, Arizona.
Dear Friends,
Thank you for visiting my site! I invite you to watch this video to learn more about me and discover how I may be able to help you in your own journey. I hope that you take advantage of all the resources made available to you here. I look forward to hearing from you soon and helping you live your Best life!
Sincerely,
Matt Cavallo
This is dedicated to the patients, caregivers, practitioners and lives affected by Multiple Sclerosis.